A bachelorette party photoshoot is a perfect way to have fun with your friends and capture unforgettable memories!
Here are 5 tips for a successful and fun bachelorette photoshoot.
1- Coordinate your outfits
The key to successful photos is to coordinate your outfits and accessories.
Play with color tones, with materials (leather, self, lace, tulle) and with patterns (flowers, special print/text for the occasion).
Determine a color scheme; by choosing tones that complement each other, the images will indeed have a more harmonious and natural look.
To do so you can select two main colors and then add softer tones to accentuate and complete your color palette.
Useful tip: avoid vivid/flashy colors as well as entirely white clothes items, as they often do not give a nice render.
If you have to make a choice, pastel colors, neutral toning, earthly tones can never go wrong!
A great source of inspiration and help to coordinate colors can be found on Pinterest, you can also use this tool.
Think about a particular theme (casual in jeans, glamorous with long dresses, fun with tutus) and make sure to match your shoes think of matching your shoes (Spartans, ballerinas, heels, sneakers).
Good to know: even in black and white images, well-matched colors and pattern match will give a harmonious render to your photos!
2. Enhance the bride
Make the bride stand out with different clothing and accessories, customize her outfit, which will place her in the center of the group.
Accessories such as colored sunglasses, a (different) tutu, a bouquet of flowers, balloons, a (different) hat, a sign made for the occasion can help to make the bride stand out.
3. Detail to the end of your nails
A nice make-up is always great for any photo session, to accentuate your eyes with mascara, a little eye shadow or camouflaging dark circles will make a huge difference for your photos.
But for this professional bachelorette photoshoot, do not hesitate to play a bit more with your make-up, it can be a little more intense than normal for a nice result. Flashy lipsticks look great on photos as well as colored nail polish!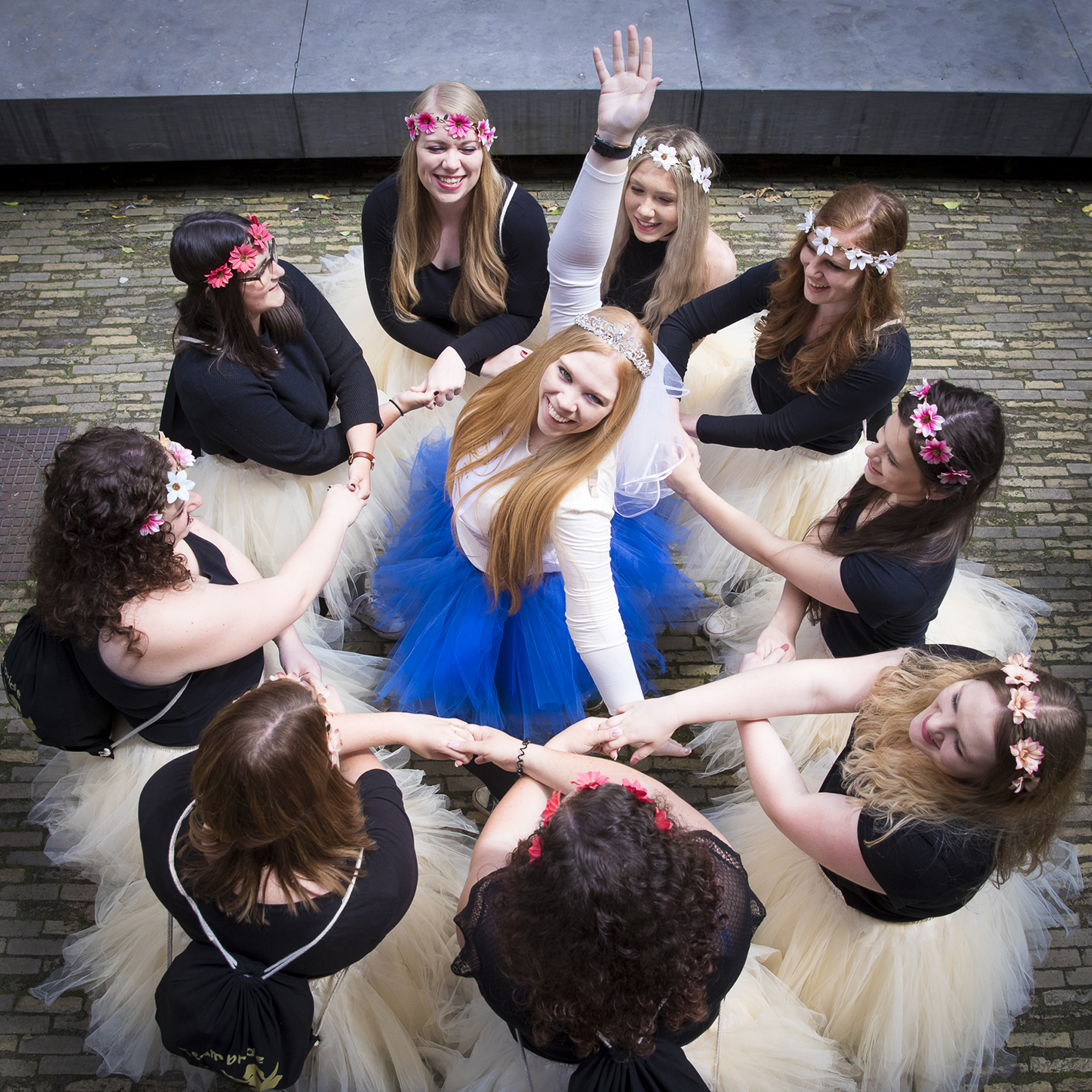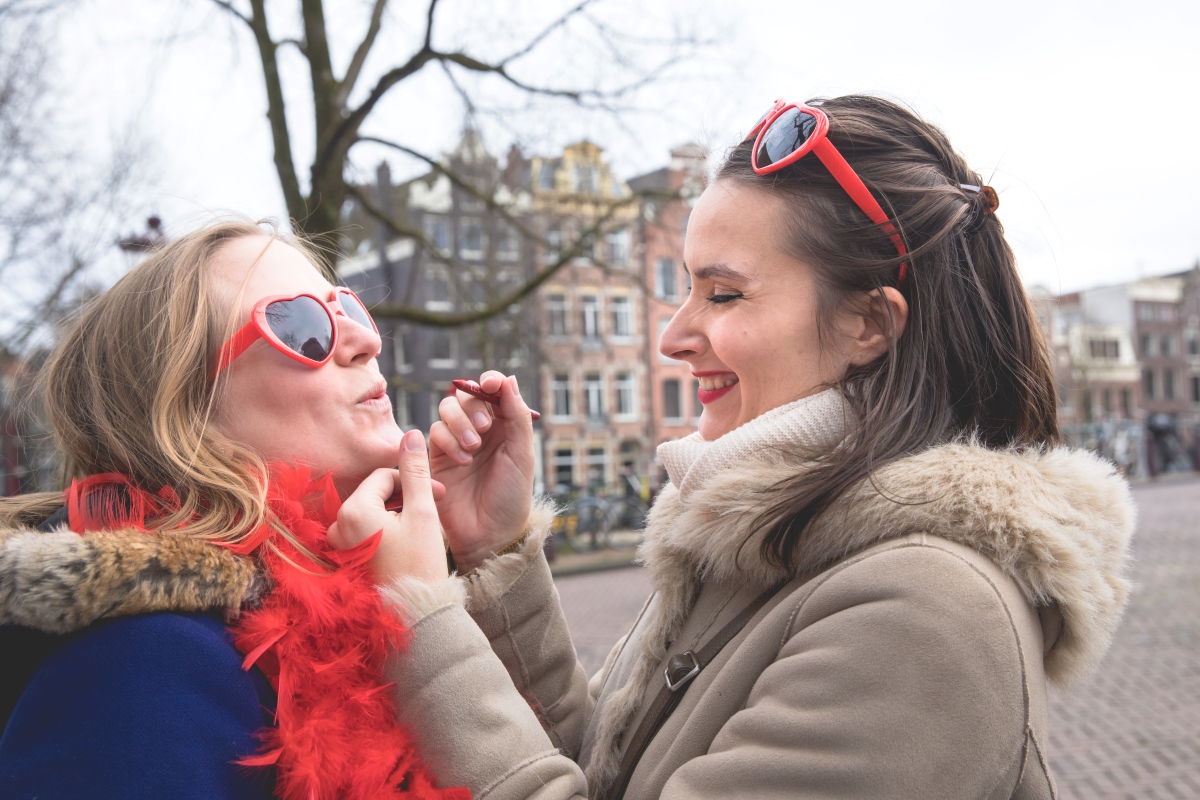 4.  Accessories for your bachelorette party
Be creative!
Bring matching accessories to play with, such as confetti's, bubbles, glitters or balloons.
This will give a personal and harmonious touch to the images, which is always fun!
Colorful accessories will also give a colorful and vibrant boost to your photo in case of a gray day!
And in case of light rain, bring transparent or colorful umbrellas to match your outfit!
5. Bags and jackets
It can be cold when shooting a bachelorette in Amsterdam. Even if it is a little chilly outside, the best is to either wear matching comfortable coats, jumpers or insulated undergarments, so you are free to move around. Indeed, big fluffy coats are not very handy and not so charming on pictures.
Another very fun and photogenic way to fight the cold: moving around and hugging each other!
Bring small bags to carry your personal belongings around. We can safely put them down next to us when we are taking the pictures.
You can also get coordinated bags as an accessory to enhance your shots!
AND LAST BUT NOT LEAST, LAUGHTER AND FUN!
All of these tips should not make you forget that the best ingredient for a successful bachelorette photo session is to have fun.
During the session everything is allowed: running, jumping, dancing, throwing confetti, using smoke bombs, kissing friends, etc. In short, just let yourself go. This will improve the result!
If the result is a little crazy, it means that it is a success!
Here are also a few posing ideas to make your bachelorette photo session a success!
And if you would like me to help you capture your stag or bachelorette party, you can reach out to me to discuss the possible options!